The Lord of the Rings by J.R.R. Tolkien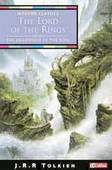 I have to admit -- the first time I picked up The Lord of the Rings, I was far from impressed. It was this old-looking book that had a musty smell and I was not particularly happy with the faded cover (I can hear Daphne screaming already). Yes, when it comes to selecting books, I'm a very, er, 'judge by the book cover' kind of person.

The second time I picked it was to try understand what in the world others see in it. Reading it was tough going to say the least, but I found myself entranced by Tolkien's world.

My review ...