Earthsea coming to TV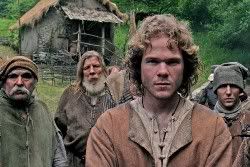 This is probably old, old news, but Ursula K. Le Guin's Earthsea series is being made into a mini series.

I have not read the books (bows head in shame), but I've heard many good things about it. Basically, the story is the staple of many fantasy stories: boy discovers he has powerful magic. Boy unleashes bad thing in world. Tries to rescue world.

The said boy is Ged, who is going to be played by Shawn Ashmore (pic). Fans of Smallville may be happy to discover that Kristin Kreuk is playing Tenar, a priestess. Isabella Rossellini is Thar and Danny Glover is Ogion. You can read from these lines that I have no idea who they are.

Thanks to the Lord of the Rings, fantasy is gaining popularity in cinemas and tv screens. Once the abode of cheesiness, fantasy has gained respectability since The Lord of the Rings won Oscar for Best Picture this year. Hopefully we won't get a spew of cheap knockoffs but well-done productions.

Meanwhile, why not visit Sci Fi channel's official site for Earthsea?

PS: With the cool things the Sci Fi channel has - what with the new revamped Battlestar Galactica series, Stargate: Atlantis and now Earthsea, you would think someone down here would have an idea to bring it down to Malaysia. Apparently they've even made a Farscape movie. Anyone? Dying sci-fi/fantasy fans here!