Brad Pitt is Mr Darcy????!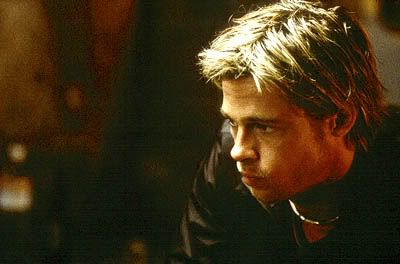 I nearly fell off the stairs when my sister told me that Brad Pitt was going to play Mr Darcy in an upcoming production of Pride and Prejudice.

"Brad Pitt as Mr Darcy? Brad Pitt is Mr Darcy?!" And I made an idiot of myself by flapping my arms in an indignant manner.

"What? What's wrong with Brad Pittlah?" my sister asked.

"He can't carry it off! Mr Darcy is aloof, aristocratic, lordly!"

"Pitt handsome what!"

"It's not about looks lah!" I stamped my feet. And continued to foam at the mouth explaining why Pitt, despite having met him in real life and knowing he is indeed a slab of grade-A American beef, can never be Darcy.

Anyway, somehow the thought of the bronzed blonde Adonis as the aloof, gentlemanly Mr Darcy was a great affront to me. And I think I'm not the only one to think so - many Austen-ites have a specific idea how Mr Darcy should look or behave (the closer they are to Colin Firth the better ;) ). Pitt just rubs us, or at least me, the wrong way.

Thank goodness then - thaaaank goodness - when I found out that no, Pitt is not going to be Darcy, someone called Matthew Macfadyen will be. According to BBC.com in Spy drama star is 'new Mr Darcy', he stars in a british spy drama called Spooks.

Kiera Knightly will play Elizabeth Bennett. I think she can pull it off, but we'll just wait and see, honestly. Why do they always use the current hot, young thing for prominent roles? Oh yeah, to lure the crowds in. Duh.

All I can say about the adaptation (seventh, I think) is that more Austen is never bad.

Unless they cast Brad Pitt as Mr Darcy and have rock-themed soundtrack.