Sin City rocks!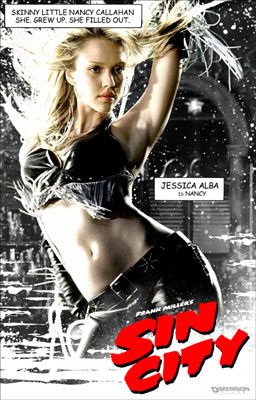 This is for you fanboys out there ...

Now, this looks like a movie that respects the material. I have not read Sin City, but a check at the Sin City section at IMDB reveals that:


After a poor Hollywood experience in the early-'90s, Frank Miller refused to relinquish the movie rights to any of his comic works, "Sin City" in particular. Robert Rodriguez, a longtime fan of the comic, filmed his own "audition" for the director's spot in secret. The footage, shot in early 2004, featured Josh Hartnett and Marley Shelton acting out the "Sin City" short-story "The Customer is Always Right". He presented the finished footage to Miller with the proclamation: "If you like this, this will be the opening to the movie. If not, you'll have your own short film to show your friends." Miller approved of the footage and the film was underway. Rodriguez also screened the footage for each of the actors he wanted to cast in the film - all of whom are reported to have been instantly amazed.
There's
more news
there as well.
Have a look at the
trailer
. It's super cool as well. I'm probably going to convert it to VCD so that I can watch it in all its glory on TV. You can tell I have too much time on my hands.
Everyone looks as if they belong there. Benicio del Toro looks cool as well as Bruce Willis. I wonder who Hartnett and Wood is playing.
A fan did complain that Jessica Alba was miscast as Nancy. Why? Apparently because she won't take her top off. Now, I know you fan boys are dissapointed, but hey, I will testify from what I saw on the trailer that she gyrates, slithers and wriggles very well.